Mission Statement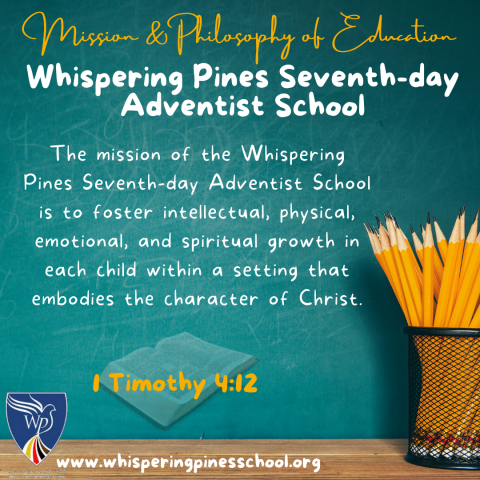 Our Philosophy
The Whispering Pines SDA School is operated by the Seventh-day Adventist Church to provide a spiritually oriented education for children. A belief in the existence of the Creator God is fundamental in the philosophy of Seventh-day Adventist schools. We respect His divine authority and recognize His intervention in human affairs. We believe that true education develops the spiritual, mental, and physical powers of each student; preparing them for the joy of service in this life and for the higher joy of service in the life to come. To achieve this goal, we encourage each student to:
develop a personal relationship with God and his fellow men as stated in Matthew 2:37-39
master the basic academic skills
value labor, physical and mental, as the blessing God intended
cultivate physical fitness, mental ability, and moral purity as the blessing God intended.
The Whispering Pines SDA School is operated in harmony with the guidance and direction of the Office of Education, North American Division of the Seventh-day Adventist Church.
History and Location
Whispering Pines Seventh-day Adventist School (herein referred to as "WPS") is a pre- Kindergarten-to-8th-grade school located on thirteen acres at 211 Jericho Turnpike, in Old Westbury, New York.
WPS was established at its current location in 1971 to provide a Seventh-day Adventist Christian education to children and youth of all backgrounds from Nassau and Suffolk counties, as well as from the surrounding areas.
Purpose and Objectives
The purpose and objectives of WPS are based upon the principles of the Seventh-day Adventist Church. The school aims to promote the mental and physical development of each child, while fostering patterns of behavior worthy of our Leader, Jesus Christ.
As a Seventh-day Adventist Christian school, it is the purpose of WPS to teach
1. acceptance of the supremacy God, and of the Holy Bible as guidance for our lives
2. commitment to the Church
3. the value of healthy interpersonal relationships4. responsible citizenship
5. healthful, balanced living
6. a lifelong commitment to intellectual growth
7. effective communication skills
8. a rich base of life skills
9. aesthetic appreciation
10. competence for career and service
The instructional staff is composed of qualified individuals whose lifestyles have demonstrated full support of the principles of Seventh-day Adventist education.